Name Days in France
October 11th, 2011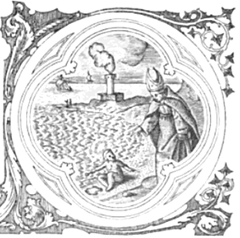 Monique wrote to me about Name Days in France and how in French you can say something that's not typically said in English…
In French you can say "we fete someone" (the verb is fêter).  This can be without any actual feast at all. Since we were a Catholic country before the separation of Church and State back in 1905, every day is some saint's day.  So each day, you can say a person with that day's saint's name is feted. 

Weather reporters on TV will say "Aujourd'hui nous fêtons les (+ nom)".  They're saying, "Today we fete all the Mary's" (for example).  Really it's all the people with that day's saint's name.  On the evening forecast they say, "tomorrow we'll 'fete' all the (+ name)".  So if the next day is St. Andrew's Day, all the guys named Andrew will have their family and friends tell him "Bonne fête!" (Happy Day).  They'll say it in person, by phone or email. We used to send cards the same way you send birthday cards.  But nowadays, where I live it's seldom done and we often forget to even wish people "Bonne fête!"
Thanks for sharing that tradition Monique!
Monique Palomares works with me on the French and Spanish versions of Mama Lisa's World.
Leave a Reply