MOMA Audio Tours Narrated by Kids
September 8th, 2012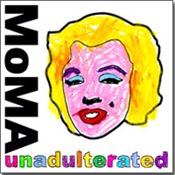 MoMA Unadulterated is an unofficial audio tour created by kids about modern art at the Museum of Modern Art in New York.
"Each piece of art is analyzed by experts aged 3-10, as they share their unique, unfiltered perspective on such things as composition, the art's deeper meaning, and why some stuff's so weird looking."
Here's a preview…
You can download the tour here.
Enjoy!
Mama Lisa
Leave a Reply