May Holidays in France
April 30th, 2008
Monique Palomares of Mama Lisa's World en français (our site devoted to children's songs around the world with their French translations) sent me this short post about public holidays in France in May…
It's too bad for French people this year! Usually, May 1st and Ascension Day are separate public holidays, but this year Ascension Day falls on May 1st. So French people only get the one holiday off.
Ascension Day is a Christian Holiday that celebrates when Jesus is believed to have ascended bodily into Heaven (40 days after his resurrection).
May 1st is Labor Day in France. We give our family, friends etc. a sprig of lily-of-the-valley as a good luck charm if we visit them.

On May 8th, we celebrate the surrender of Nazi Germany – which was the end of WWII for us. The mayor of each town places flowers at the foot of the Monument to the Dead in each town. The president of the Republic places one on the Tomb of the Unknown Soldier below the Arc de Triomphe in Paris.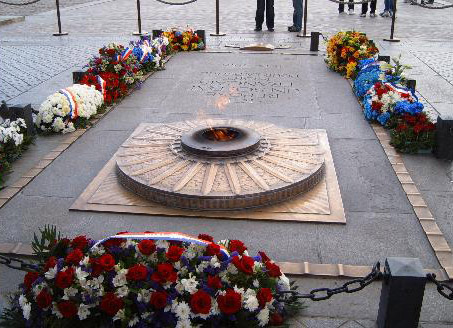 Come read a previous post about Why May 1st is Labor Day Around the World (Its origin stems in US history).
This article was posted on Wednesday, April 30th, 2008 at 5:46 pm and is filed under Ascension Day, Countries & Cultures, France, French, Holidays Around the World, Labor Day, Languages, Mama Lisa, May Day, Victory in Europe Day. You can follow any responses to this entry through the RSS 2.0 feed. You can skip to the end and leave a response. Pinging is currently not allowed.
2 Responses to "May Holidays in France"
Ronnie Larson Says:
May 1st, 2008 at 3:54 pm

I am trying to find the rhyme my dad and uncle used to tell us when we were little.
It went something like this, excuse some of the words.. I don't know if they are English with an accent or Swedish

A raven(fox) come a walkin, a bawkin, a talkin, a pittlee peekin

Paul Westphal Says:
January 17th, 2010 at 5:52 pm

Could you please tell me, if restaurants in paris are open om May 1st, Labor Day?
Leave a Reply