Mary Anning–The Lady who Sells Seashells by the Seashore
May 21st, 2014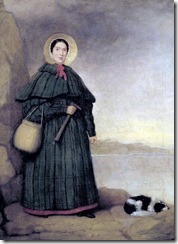 Today is the 215th anniversary of the birth of British paleontologist, Mary Anning (1799 – 1847).
Mary Anning collected fossils and contributed important information about prehistoric life to the scientific community. She supported herself selling fossils to geologists and to tourists.  She was a seller of seashells!  It's believed that the tongue twister, "She sells seashells by the seashore" is about Mary Anning!
This article was posted on Wednesday, May 21st, 2014 at 9:09 am and is filed under Countries & Cultures, England, English, English Nursery Rhymes, Languages, Nursery Rhymes, Rhymes by Theme, Tongue Twisters. You can follow any responses to this entry through the RSS 2.0 feed. You can leave a response, or trackback from your own site.
Leave a Reply