Mama Lisa's World – Christmas Carols Around the World App
December 3rd, 2013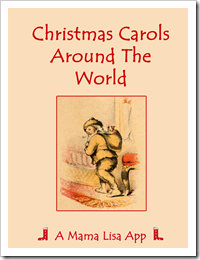 Check out Mama Lisa's World's New Christmas Carol App for $1.99!
Featuring…
-75 Beloved Carols from Around the World.
-Each carol includes lyrics in the original language, with an English translation.
-Each includes recordings, some by professional musicians, but many by ordinary people who have contributed them to us, to help preserve their culture.

Here's a screenshot so you can see what a song "page" looks like…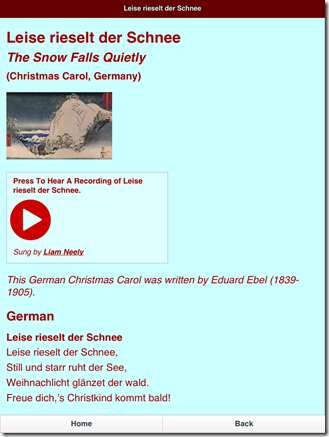 Check out the app at the link below…
https://itunes.apple.com/us/app/christmas-carols-around-world/id741487897
-Mama Lisa
This article was posted on Tuesday, December 3rd, 2013 at 5:13 pm and is filed under Apps, Christmas, Christmas Carols around the World, Christmas Songs, Holiday Songs, Holidays Around the World, MP3's, Recommendations, Recordings. You can follow any responses to this entry through the RSS 2.0 feed. You can skip to the end and leave a response. Pinging is currently not allowed.
2 Responses to "Mama Lisa's World – Christmas Carols Around the World App"
Elisabeth Says:
November 12th, 2014 at 3:37 am

Hi. Just downloaded your Christmas Carols app.
There are several errors and/or confusing entries.
Catalan is a language, but not a separate country (though they'd like to be). It is in the north of Spain.
Gesu Bambino is a 20th c. Italian carol, not from England!
Oh, Come Little Children is actually not English, but just the English translation of the German carol, Ihr Kinderlein Kommet.
Similarly, O Peuple Fidele is just O Come All Ye Faithful translated to French, as Mon Beau Sapin is O Tannenbaum. These should be referred to their actual country of origin.
Both Gaudete and Personent Hodie are not Italian, just because they are in Latin. They are from a Finnish (maybe Swedish) songbook from the 16th century.
As for the Occitan selections, you might be more successful separating them into their respective countries (attaching the Langue d'Oc ones to France, or the Catalan one to Spain, for example), since Occitania doesn't exist and might be confusing to people who don't know.
There is an old book of carols called The International Book of Christmas Carols that has a large selection, and lists by region as well as country. A lot of this might be in the Public Domain, so you wouldn't have to pay any royalties, and it would really round out the selections on your app.
Best of luck!

Lisa Says:
November 12th, 2014 at 3:23 pm

Hi Elisabeth,

Thank you for writing.

We feature countries and cultures on the Mama Lisa's World site and apps. Occitan and Catalan are considered cultures to us.

Re. "Gesu Bambino", "Oh, Come Little Children", "O Peuple Fidele" and "Mon Beau Sapin" – these are all sung in the countries where they're listed. That's why they're listed under those countries. They're all notated on the app where they come from originally.

Thanks again for writing!

Sincerely,

Mama Lisa
Leave a Reply