Mali Puppets and Dogon Masks from Africa
April 23rd, 2010
Puppet theater is an important part of the Mali culture.  Both masks and puppets are used.  The puppets are often made of wood and a rod construction is used with strings.  The puppets are anywhere from 1 to 6 feet high.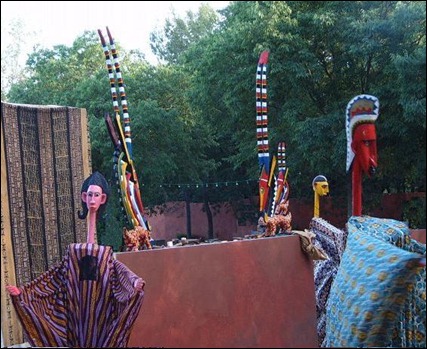 Some of the shows are sacred, some have their roots in folklore and others are secular in nature, with themes like farming and fishing.  The shows are often after the harvest in autumn and before planting in the Spring.  The latter is at the New Year – called San Yelema.
In the photo below you can see a Dogon Mask.  The Dogon are a small ethnic group in Mali. Their culture is rich in mythology.  Mask dances are an important part of their culture. There are about 70+ types of Dogon Masks that exist.  The masks represent specific people (or archetypes of people) and animals.  Some of the masks are worn by the wearer with stilts on.  These represent the Fulani, another ethnic group in Africa. 
All Dogon Masks are destroyed after use except for the Great Mask which is used for funeral rituals.  It's held up by hand and does not cover the face.  The Great Mask is also called the Mother of Masks.  It's passed on from generation to generation and is used for 60 years when a new one is made.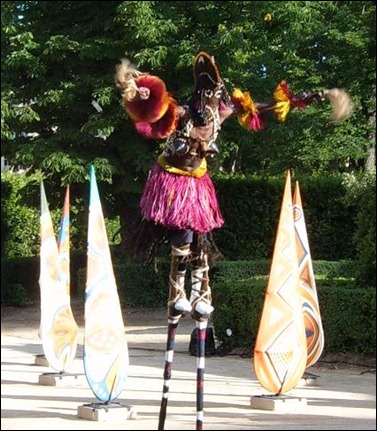 Thanks to Monique Palomares for sharing her photos!  They're from an African parade that took place in France.
Reference Books:
The World Encyclopedia of Contemporary Theatre: Africa (1997) by Don Rubin
African folklore: an encyclopedia (2004) by Philip M. Peek, Kwesi Yankah
Dogon (1996) by Chukwuma Azuonye
Native arts of North America, Africa, and the South Pacific: an introduction by George A. Corbin
Sites:
Puppets and masks of the Bamana and the Bozo (Mali)
If anyone would like to share what they know about puppets and masks in Mali and other parts of Africa, the songs and stories used in puppet shows, or info about the festivities and traditions surrounding San Yelema, feel free to comment below or email me.
Thanks!
Mama Lisa
This article was posted on Friday, April 23rd, 2010 at 5:36 pm and is filed under African Customs, Arts and Crafts, Countries & Cultures, Customs and Traditions, Dogon, Dogon Masks, Folk Lore, Folk Songs, Games Around the World, Mali, Puppet Shows, Puppets, San Yelema. You can follow any responses to this entry through the RSS 2.0 feed. You can skip to the end and leave a response. Pinging is currently not allowed.
3 Responses to "Mali Puppets and Dogon Masks from Africa"
mague Says:
May 21st, 2010 at 10:34 pm

solo queria agregar una cancion no se como se llama pero va asi

El patito andaba,andaba
Por debajo del agua clara
Y movia su colita
Y movia su colita
Porque queria subir.

que suba , que suba
si no puede subir
que ponga una escalera
para que llegue al fin.

Lisa Says:
May 21st, 2010 at 11:52 pm

Cool song! Please let us know what country you're from (or what country you learned it in) so I know where to post it.

mague Says:
September 9th, 2010 at 5:59 pm

bueno pues yo soy de cd. juarez chihuahua mexico y la aprendi en el kinder pero no me acuerdo del nombre
Leave a Reply