Let Us Know about Gifts Given for Special Occasions in Your Culture!
February 11th, 2009
I've been asked… "about gift customs around the world like the one of the temari balls in Japan. Which gifts do people around the world traditionally give for special events such as marriages, births, etc.?"
FYI Temari balls are fancy balls with colorful, intricate patterns on them. They originally come from China, but are also found in Japan. They were traditionally made out of silk, often from old kimonos. Now they're made with embroidery covering the balls.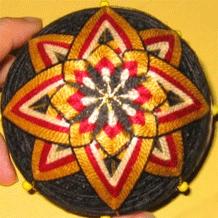 They're thought to bring good luck to whoever owns them. They're given for births, birthdays, anniversaries and other special occasions. They're also given by parents to kids on New Years Day.
Mama Lisa
I asked Ayako in Japan about the Temari balls. Here's what she wrote:
"Hi Lisa,
Temari balls are beautiful. Their embroidery is fancy. We don't play with them now. We just enjoy looking at them.
By the way, one of the traditional gifts is "Otoshidama". It is special money given to children from their parents or relatives on New Year. It may sound dry to give money, but it is traditional heart-warming gift.
On Valentine's day, women give chocolates to the men whom they love in Japan. It is called "true heart chocolate". Sometimes working women give chocolates to their male coworkers. It is called "obligation chocolate". Recently, it's also common to give chocolate to one's friend. That's called "friendly chocolate".
Usually men give gifts to the women in return on the 14th of March.
Ayako

Please join the discussion and let us know about any special gifts given for special events in your culture by commenting below…
UPDATE: Check out a later post about Holiday Traditions, Gift Giving and Superstitions in the UK.
This article was posted on Wednesday, February 11th, 2009 at 3:46 pm and is filed under Arts and Crafts, Birthdays, Countries & Cultures, Customs and Traditions, Embroidery, Gift Giving, Holidays Around the World, Japan, Mama Lisa, Marshmallow Day, New Years, Questions, St. Valentine's Day, Temari Balls, USA, Valentine's Day. You can follow any responses to this entry through the RSS 2.0 feed. You can skip to the end and leave a response. Pinging is currently not allowed.
5 Responses to "Let Us Know about Gifts Given for Special Occasions in Your Culture!"
Leave a Reply