Jodi Maisel's Sweet Potato Latke Recipe
December 4th, 2010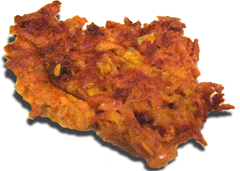 Yesterday, Todd Bornfriend told me how he absolutely loves his sister's Sweet Potato Latkes!  He loves them so much that he has her make him an extra batch to take home every year.  So does his nephew.
Luckily for us, Todd was nice enough to share her recipe!  Here it is…
Jodi Maisel's Sweet Potato Latkes

4 Medium Yams or Sweet Potatoes, peeled
1/2 cup Flour
3 T Brown Sugar
1 t. Baking Powder
2 Eggs
1/2 t. Salt
1/2 c. Milk (approximately)
Oil for frying

1. Grate yams (a food processor works well).

2. In a separate bowl, mix dry ingredients.

3. Add eggs to dry ingredients, then enough milk to make a batter – so it's not too runny.

4. Add yams.

5. Heat oil in large pan.

6. Drop in batter by tablespoons and flatten. Fry over medium-high heat until each side is golden.

7. Drain on paper towels. Makes approximately 2 dozen.
These sound yummy!  Many thanks to Todd Bornfriend and Jodi Maisel for sharing this recipe with us.
Read more of our posts about Chanukah.
Happy Chanukah!
Mama Lisa
P.S. My daughter pointed out that the photo of the latke at top looks like the shape of the United States of America!
This article was posted on Saturday, December 4th, 2010 at 8:22 pm and is filed under Hanukkah, Hanukkah Recipes, Holiday Recipes, Holidays Around the World, Latkes, Main Course, Recipes of the World, Side Dishes, Sweet Potato Latkes. You can follow any responses to this entry through the RSS 2.0 feed. You can skip to the end and leave a response. Pinging is currently not allowed.
One Response to "Jodi Maisel's Sweet Potato Latke Recipe"
Lisa Says:
June 29th, 2011 at 8:34 pm

Melanie wrote:

Hi,

I want to tell you about the sweet potato/potato latkes and my son. When I made them awihile ago—when you first posted the recipe I made them but I wondered how they would freeze. I froze both kinds with vacuum sealer bag and sent them home to georgia with my son—he called 3 days later to tell me they had thawed so he heated them in his toaster oven until they began to bubble. He loved both kinds and used the regular one with lamb and gravy and the sweet ones were sweet and savory. Now we know they freeze and hold up well and still retain their "AWESOME" (per son Joe) taste.

Thanks. Sincerely, Melanie
Leave a Reply