Imagination Games Kids Play
August 21st, 2012
I love this video!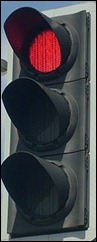 "There are all these simple little games that people play using their surroundings: don't step on the cracks, balance beam railroad tracks (or curbs), bicycle slalom, etc." –Jason Kottke
I remember being stuck at red lights and trying to shoot them so they would turn green.
What games did you make up as a kid?
-Mama Lisa
Video: Follow the Foot
Photo: Wikipedia
Leave a Reply