How to Make an Egyptian Instrument called a Sistrum
January 31st, 2013
Written by guest blogger Daria Marmaluk-Hajioannou.  Daria performs multicultural music from around the world.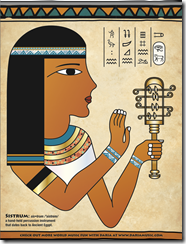 No one really knows what music sounded like in ancient Egypt, but we do know what some of their instruments used during that time looked like. A close look at some of the beautiful hieroglyphics found in the pyramids and in archeological ruins show that Egyptian musicians enjoyed playing harps, drums, hands drums and also used a unique rattle called a sistrum.
A sistrum is a hand-held percussion instrument, that was most often played by priestesses or the court musicians who entertained pharaohs and nobility. Instead of shaking it around like you might play maracas, the sistrum was moved back and forth and the rattles or jingles on the instrument would create a "swooshing" sound.
Can you make your own version? Yes! It's easy… for a wooden sistrum you just need to find the right branch in the shape of a "Y", then add the wires plus the jingles to create your version of this ancient instrument.
Here are supplies needed for creating a wooden sistrum:

-A tree branch shaped like a "Y"
-Assorted buttons, jingle bells or metal washers
-A small amount of floral wire, jewelry wire, fishing twine or embroidery thread
-A wire-cutter

Thread different kinds of buttons, jingle bells or metal washers onto a small piece of floral wire or jewelry wire. [You can also use fishing twine or embroidery thread, but wire is better at keeping the bangles in place.] Tie or secure the wire in place on each side of the branch by twisting the wire securely around the branch (making sure no pointy parts are sticking out). 
Then try out your instrument. It should make a pleasing sound when "swooshed" from one side to another. Enjoy!
You can find almost 2 dozen multicultural music crafts on DARIA's world music for kids site.
Thank you for sharing this wonderful craft with us Daria! –Mama Lisa
Leave a Reply