How to Make a Rainbow Layer Cake
August 20th, 2015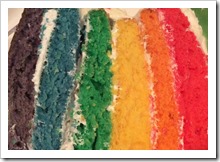 Wow your kid for his or her birthday with this rainbow layer cake!
It's easy to make.  Here's how…


(Below you can find quantities of food coloring to get the colors pictured here.)
Recipe for Rainbow Layer Cake
Ingredients
2 Boxes White Cake Mix (I used Pillsbury Classic White)
Ingredients needed to make the cake (eggs, oil and water)
Box of Assorted Food Coloring
3 Containers White Icing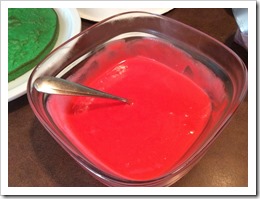 1. Make the cake batter using the mix from both boxes.  Follow the instructions on the box, remembering to double all ingredients.
2. Pour batter evenly into 6 small bowls.
3. Add food coloring to each bowl of batter to make 6 different colors of the rainbow. Below I list the quantities of food coloring that I used to make each color:
Red Batter
60 drops Red food coloring

Orange Batter
50 drops Yellow
8 drops Red

Yellow Batter
30 drops Yellow

Green Batter
43 drops Green

Blue Batter
40 drops Blue

Purple Batter
16 drops Blue
24 drops Red
4. Spray 8" cake pans with cooking spray.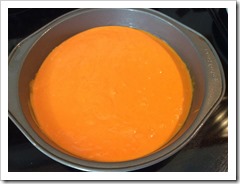 5. Pour each color of batter in a separate pan and cook for 15-20 minutes, until it springs back when you touch the top with your finger. I have 2 cake pans, so I cooked two different colored layers at a time.
6. Place finished cake layers on plates (or a cooling rack) to cool.  Cook the other layers and let them cool on a rack or plates.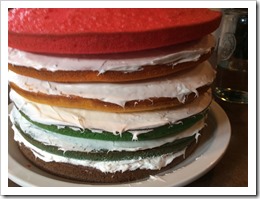 7. Put the bottom layer (Purple) on a cake plate and put icing on top of it.
Then proceed with the other layers in this order from bottom to top:
Blue, Green, Yellow, Orange and Red.
I used two containers of white icing to ice the tops of all the layers except for the last layer.
8. Since this is a tall cake, you cake strengthen the structure using stiff, unbendable straws. Take a straw and stand it up from the bottom to the top of the cake to find the height. Cut off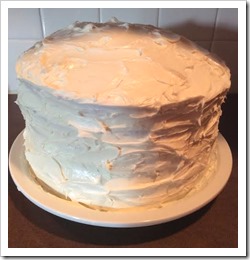 the top of the straw so that it's equal to the height of the cake. Cut 6 more straws to the same height. 
Insert one straw in the middle of the cake.  Then evenly space the other straws around the diameter of the cake, inserting them about 1 inch from the edge. This will give your cake more support.
9. Ice the rest of the cake.
10. Put the cake in the refrigerator until serving.
Enjoy!
Mama Lisa
Leave a Reply