How Louis Armstrong Started Playing the Trumpet as Teen
September 18th, 2008
The story behind how Louis Armstrong starting playing the trumpet is interesting. When he was a teenager, one New Year's Eve, he shot a gun off into the air. Because of that incident he was arrested and sent to reform school at the New Orleans Colored Waif's Home. There he learnt to play the cornet and joined the school's band. He went on to become one of the world's best trumpet players. It's interesting how an incident that's so seemingly negative, could turn out to have such great consequences!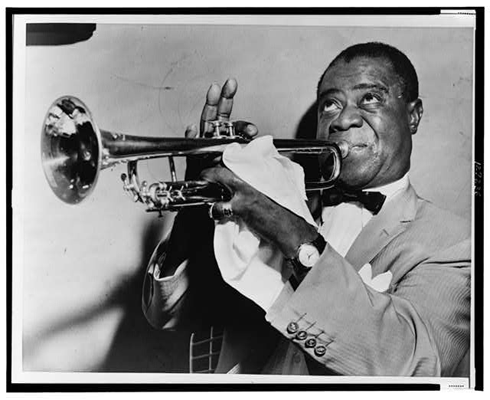 3 Responses to "How Louis Armstrong Started Playing the Trumpet as Teen"
David Larson Says:
September 23rd, 2008 at 1:33 pm

Not only became a great trumpet player, but broke the colour barrier, got jazz accepted as a popular style of music, inspired many others to make a go for the top, was also a singer, and thrilled millions. He inspired many other players from Dizzy Gillespie to Wynton Marcelles.
Lesson – When you get an opportunity, make use of it.
A great picture.
david

brianna barnum Says:
March 17th, 2009 at 8:15 pm

louis armstrong was also one of the most famous jazz making men in the history

Chrystal Ball Says:
January 16th, 2020 at 11:47 pm

Louis Armstrong was born on August 4th,1901. as a kid he liked to watch jazz shows because,his family was poor at the time and that is all he could do. when Louis was a kid he did get in some trouble. On New Years eve he shot off a gun and got in so much trouble. He had to go to a school for bad kids.The school was called the New Orleans Colored Waif's home. He self taught himself how to play the cornet at that school. After he got very good at the cornet and he got older he got in many bands and learned how to play the trumpet. As he grew with his music he made songs like "West in Blues.", "What a Wonderful World!",his hit song "Hello Dolly!" and more.
Leave a Reply