Gracie's Art
September 22nd, 2009
Gracie has sent me some illustrations to post with songs over the past couple of months.  What's interesting is that she doesn't send them for specific songs, so I have to find songs or rhymes on Mama Lisa's World to match them up to.  That can be tricky since we have over 2000 pieces!  I end up doing a google seach on the subject of the illustration with "Mama Lisa" to find a song on my site that corresponds with its theme. 
Here's one of my favorite drawings Gracie did…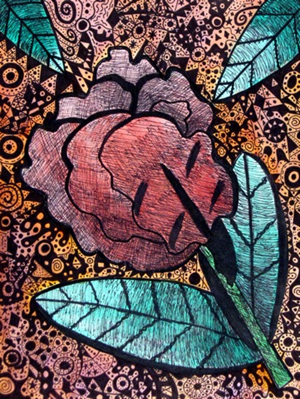 I posted it on a Hungarian children's song page called Cifra Palota, "Adorned Palace".  It's a circle game.  Below are the English lyrics to the song.  It's a little abstract or symbolic (perhaps the rose is the princess and the violet is a prince?)…
Adorned palace,
Its window is green,
Come out you, rose,
The violet is waiting for you.
I am little,
I'll grow up someday,
Next year or two years hence
I'll become a big girl.
Here's another illustration Gracie sent me…
I posted the animal drawing with the song Animal Fair.
I asked Gracie how she creates these illustrations.  She wrote, "I like to create art with patterns. Crazy patterns create great compositions. I like to use watercolor and then use a black sharpie to create patterns."
Thanks for sharing your work with us Gracie!
Mama Lisa
Here are links to song pages where there are more illustrations by Gracie:
Comptine pour dessiner (French) – Drawing Rhyme
Sleep, My Child and Peace Attend Thee (English Lullaby)
El barco chiquitito (Spanish) – The Tiny Ship
Barboleta (Portuguese) – Butterfly
Es schneit! Es schneit! (German) – It's Snowing, It's Snowing
2 Responses to "Gracie's Art"
Kay Green, Child Safety Mama Says:
September 24th, 2009 at 7:15 pm

She is doing an amazing job! You should be very proud of her. I am impressed.

Lisa Says:
September 24th, 2009 at 7:40 pm

She's not my kid! But I agree that Gracie does nice work!
Leave a Reply