Go Plant a Tree – A Poem
April 18th, 2017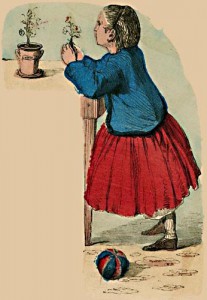 "Go Plant a Tree is a poem by Ella Wheeler Wilcox from 1918. I thought it was fitting to share with Earth Day coming up this weekend. You can hear a recording of the poem below and read along with the text.
Enjoy!
-Mama Lisa
MP3 Recording of Go Plant a Tree
Go Plant a Tree
By Ella Wheeler Wilcox
God, what a joy it is to plant a tree,
And from the sallow earth to watch it rise,
Lifting its emerald branches to the skies
In silent adoration; and to see
Its strength and glory waxing with each spring.
Yes, 'tis a goodly, and a gladsome thing
To plant a tree.
Nature has many marvels; but a tree
Seems more than marvellous. It is divine.
So generous, so tender, so benign.
Not garrulous like the rivers; and yet free
In pleasant converse with the winds and birds;
Oh! privilege beyond explaining words,
To plant a tree.
Rocks are majestic; but, unlike a tree,
They stand aloof, and silent. In the roar
Of ocean billows breaking on the shore
There sounds the voice of turmoil. But a tree
Speaks ever of companionship and rest.
Yea, of all righteous acts, this, this is best,
To plant a tree.
There is an oak (oh! how I love that tree)
Which has been thriving for a hundred years;
Each day I send my blessing through the spheres
To one who gave this triple boon to me,
Of growing beauty, singing birds, and shade.
Wouldst thou win laurels that shall never fade?
Go plant a tree.
Read by MaryAnn S.
This article was posted on Tuesday, April 18th, 2017 at 9:20 pm and is filed under Countries & Cultures, Earth Day, Ella Wheeler Wilcox, English, Holidays Around the World, Languages, Mama Lisa, MP3's, MP3's of Poems, Poems, Poems about Trees, Poetry, Poets, Recordings, Recordings of Poems, USA. You can follow any responses to this entry through the RSS 2.0 feed. You can skip to the end and leave a response. Pinging is currently not allowed.
One Response to "Go Plant a Tree – A Poem"
Shrinjal Says:
March 15th, 2021 at 5:10 am

What is the age of a tree in poem. Please tell me.
Leave a Reply