Furoshiki: Japanese Gift-Wrapping – Go Green!
November 3rd, 2010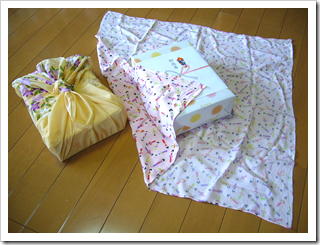 Furoshiki is a way of using cloth to wrap presents or to make a bag to carry things in.  The Furoshiki is generally a square piece of cloth used to wrap things up and carry them.  (I believe the word Furoshiki refers to both the square cloth and the style of wrapping things.)
Furoshiki goes back to the 8th century.  Yet it has very modern implications in terms of going green.
This video below shows how to wrap presents using Furoshiki.  What's great is that it's reusable and you avoid using all that wrapping paper that gets thrown out.
This video below shows someone making bags and other carrying devices out of cloth using Furoshiki.  What's great is that it's reusable and helps you avoid using plastic bags.
Below you can find a chart for showing Common Furoshiki Folding Patterns.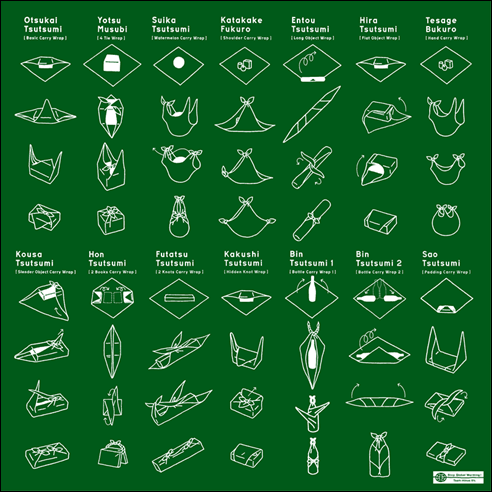 Click the link or image above for a larger version of this chart
from the Japanese Ministry of the Environment.
Furoshiki.com has more online folding patterns and they sell the fabric.
Many thanks to Linda Austin of Cherry Blossom Memories for pointing this out!
See, how easy it is to Go Green!
Mama Lisa
Photo: Katorisi for Wikipedia
This article was posted on Wednesday, November 3rd, 2010 at 4:39 pm and is filed under Arts and Crafts, Countries & Cultures, Crafts, Customs and Traditions, Gift Giving, Gift Giving in Japan, Gift Ideas, Gift Ideas for Kids, Green Cities, Japan, Parenting, Recommendations, Teaching, Teaching about World Cultures. You can follow any responses to this entry through the RSS 2.0 feed. You can skip to the end and leave a response. Pinging is currently not allowed.
3 Responses to "Furoshiki: Japanese Gift-Wrapping – Go Green!"
Mich Says:
November 4th, 2010 at 1:00 am

Such a neat idea! I've posted some ways I use my furoshiki as reusable gift wrap and to make different styles of bag at http://myfuroshiki.blogspot.com/p/myfuroshiki-makes.html Happy eco wrapping!

Furoshiki Forum Says:
November 15th, 2012 at 5:12 pm

There are also lots of other great and fascinating techniques for folding Furoshiki. You can visit FuroshikiForum.com where we have techniques section and a community for Furoshiki.

Gypsy Queen Says:
August 29th, 2016 at 3:27 pm

The Japanese Government suggests Furoshiki because it's smart and simple to use. It's also eco friendly!
Leave a Reply