For All of You Star Wars Fans: Tataouine is a Real Place in Tunisia
April 19th, 2007
If you're a Star Wars fan you know that Luke Skywalker grows up on the planet Tatooine. But what you may not know is that Tatooine is a real town in Tunisia! (Spelled "Tataouine".)
The connection between Tatooine and Tunisia goes deeper than the just the name. Many of the scenes in Star Wars Episode IV (the first movie) that took place on Tatooine were filmed in the North Aftrican nation – though not in the town of Tataouine.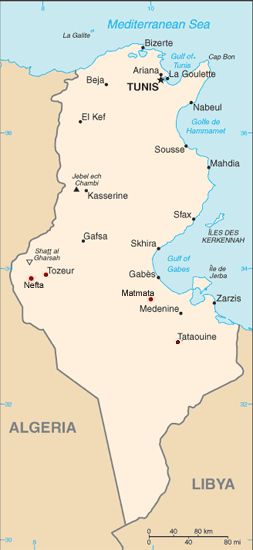 In the movie, the farm where Luke grew up looks like it's a single area. But it was actually filmed in more than one place. The scenes with the sunken home, pictured below, were filmed in the town of Matmata. There, homes really were built underground ages ago. This view of Luke's house is actually a hotel, called Hotel Sidi Driss.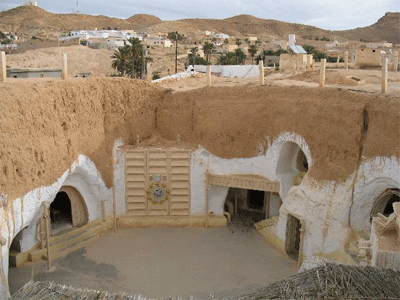 Other views of the outside of Luke's home were filmed in the town of Nefta. (Pictured below).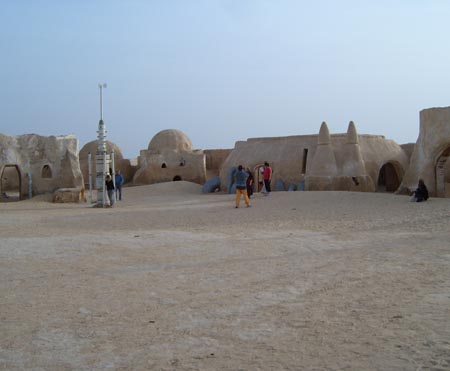 Still other scenes of Tatooine were filmed in Tozeur.
The way people in Tunisia dress also influenced Lucas in his designs for Jedi costumes.
Many thanks to Monique Palomares of Mama Lisa's World en français for the photo outside Luke's home, and to Andy Carvin for the photo of Hotel Sidi Driss. The initial map is courtesy of the CIA World Factbook. I altered it to show the Star Wars locations mentioned.
Here's a link for more Star Wars locations and photos in Tunisia
3 Responses to "For All of You Star Wars Fans: Tataouine is a Real Place in Tunisia"
andy carvin Says:
April 20th, 2007 at 9:17 am

Thanks for including my Sidi Driss photo on your site. I also did an article about Star Wars tourism for the Associated Press. It also included two videos of Sidi Driss. Here's a link:

Pok Mccaughey Says:
May 6th, 2010 at 11:11 am

Can't wait to obtain the latest star wars theme on my Tom Tom GPS. Seems like It's excellent!

Doug & Brady Says:
September 22nd, 2011 at 8:02 pm

​Hi there – We saw your webpage about travel in Tunisia and thought you might enjoy a look at our new book, STARS OF THE DESERT – A journey across the dunes of Tunisia to discover lost "Tatooine." You can find more about our week-long trek to Tunisia on our travel blog Set of Drifters [http://www.setofdrifters2.com/2.html], and check out the book at Blurb [http://www.blurb.com/my/book/detail/2407541].

Happy travels, intergalactic or otherwise!

Doug and Brady
Leave a Reply