Floating Lanterns Festival in Thailand and "Loi Krathong Song" with an mp3
November 15th, 2005
Wouldn't it be great if you could take all the bad luck in your life and just let it float, far away, down a river? In Thailand, you can!
The Loi Krathong or Floating Lanterns Festival takes place on the night of the full moon in the 12th lunar month, which is usually in November. A "Krathong" is a little ship, made from banana leaves, and "Loy" is "to float". So "Loy Krathong" means "to float little ships made from banana leaves". And, during the evening of the festival, people all over Thailand do just that! They light candles and joss-sticks (incense), put them in their ships, and launch their Krathongs on a nearby river. They believe the little boats carry all their bad luck away. The ships themselves are an offering to the water goddess.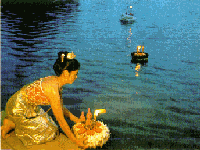 Another important part of the festival is the "Nopamas Beauty Queen Contest". Nopamas was a legendary beautiful woman of the 13th century who was the consort of an important king. It's believed that she created the first Krathong and the contest is held in her honor.
The Loi Krathong Festival is both a time of joy and an important expression of Thai spirituality and identity. It's also quite a beautiful spectacle and tourists come from all over the world to witness the majestic processions of Krathongs floating peacefully into the night.
Here's the Loy Krathong Song, which is associated with the holiday, with an mp3 recording…
Loy Krathong Song
(English Translation)

November's full moon shines,
Loy Krathong, Loy Krathong,
And the water's high,
In the golden river and the canal.
Loy Loy Krathong
Loy Loy Krathong
Loy Krathong is here
And everybody's full of cheer.
We're together at the canal
Everyone with his Krathong,
As we push away, we pray,
We can see a better day.

MP3 Recording of Loy Krathong Song

Thai Transliteration

Wan Pen Duan Sip Song
Nam Koh Nong Tem Taling
Rao Tanglai Shai Ying
Sanuk Ganjing Wan Loy Krathong
Loy Loy Krathong
Loy Loy Krathong,
Loy Krathong Gan Laew
Koh Shern Nong Kaew
Ook Ma Ram Wong
Ram Wong Wan Loy Krathong
Ram Wong Wan Loy Krathong
Boon Ja Song Hai Rao Suk Jai
Boon Ja Song Hai Rao Suk Jai
Many thanks to Burt and Joy at Soppong River Inn in Thailand for providing me with the recording of Loy Krathong.
Happy Loi Krathong!
-Lisa
Come visit the Mama Lisa's World Thailand Page for more songs from Thailand.
This article was posted on Tuesday, November 15th, 2005 at 9:28 pm and is filed under Countries & Cultures, Folk Songs, Holiday Songs, Holidays Around the World, Languages, Loy Krathong (Floating Lanterns) Festival in Thailand, Loy Krathong Song, MP3's, Podcasts, Recordings of Songs, Thai, Thai Folk Songs, Thailand. You can follow any responses to this entry through the RSS 2.0 feed. You can skip to the end and leave a response. Pinging is currently not allowed.
5 Responses to "Floating Lanterns Festival in Thailand and "Loi Krathong Song" with an mp3"
Leave a Reply