Everyone is Different!
April 25th, 2010
Here's a great drawing my 8 year old daughter created…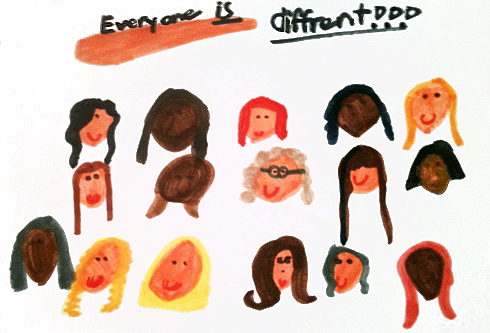 Out of the mouths (and creative hands) of babes!
I found an Italian proverb to fit the drawing: ""Vivi e lascia vivere!" (Meaning, "Live and let live!" i.e. Don't judge others). If anyone would like to share a poem or song about tolerance and diversity to go with the drawing, feel free to in the comments below.
Mama Lisa
This article was posted on Sunday, April 25th, 2010 at 9:54 pm and is filed under Arts and Crafts, Countries & Cultures, Diversity, Drawing, Kids Drawings, Mama Lisa, Teaching, Tolerance, USA. You can follow any responses to this entry through the RSS 2.0 feed. You can skip to the end and leave a response. Pinging is currently not allowed.
5 Responses to "Everyone is Different!"
Leave a Reply