Earrings for Girls who Have Metal Allergies or Sensitivities
January 31st, 2012
My daughter had her ears pierced last year.  She had problems with different earrings causing reactions to her skin.  We tried nickel free earrings, 14 karat gold, sterling silver, hypoallergenic, titanium and on and on.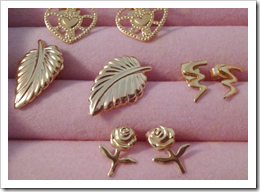 Finally, after a long search we found earrings that didn't cause a reaction!  They're made of 304 surgical steel with pure 24 karat gold overlay.  What's even better is that they're inexpensive.  Most of these cost under $10. Which is great because most kids will lose an earring or two over time.  
We bought these earrings at an online store called Sensitively Yours.  We've only bought the gold earrings there, not the silver ones.
I wanted to share our experience in case it helps any of you Moms out there with children who have this same problem.
Note: This is not intended to replace medical advice!
This article was posted on Tuesday, January 31st, 2012 at 10:52 am and is filed under Countries & Cultures, Parenting, USA. You can follow any responses to this entry through the RSS 2.0 feed. You can skip to the end and leave a response. Pinging is currently not allowed.
Leave a Reply