Dragon fly! – A Rhyme about a Dragonfly, Boys and Fish
November 9th, 2009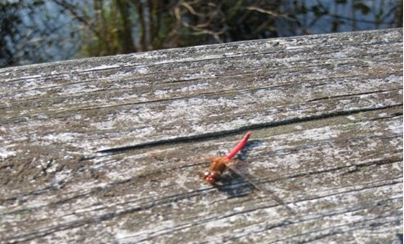 Dragon fly! Dragon fly!
Dragon fly! dragon fly! fly about the brook,
Sting all the bad boys who for the fish look;
But let the good boys catch all they can,
And then take them home to be fried in a pan,
With nice bread and butter they shall sup up their fish,
While all the little naughty boys shall only lick the dish.
This rhyme can be found in Rhymes Old and New collected by M.E.S. Wright, (1900).
This article was posted on Monday, November 9th, 2009 at 10:37 pm and is filed under Countries & Cultures, England, English, English Nursery Rhymes, Languages, Nature Photos, Nursery Rhymes, Photos, United Kingdom. You can follow any responses to this entry through the RSS 2.0 feed. You can skip to the end and leave a response. Pinging is currently not allowed.
One Response to "Dragon fly! – A Rhyme about a Dragonfly, Boys and Fish"
barbara rutledge Says:
November 11th, 2009 at 8:45 pm

looking for a game my Dad use to play with us, but thing he would be around never wrote it down it went like this. Thumbs on top of his knock it off take it off, then he would fold his hand down and form a whole between his thumb and fore finger and say whats in that little round whole. we start guessing mouse he'd say cat got it, where cat got dog got where dog so on I can't remember. it would in up with a frog and he'd put out invesible things and say this his pants can you help. In World War ll spend time at a Dutch house.
Leave a Reply