Designers' Sketches for Michelle Obama for the Inauguration
December 9th, 2008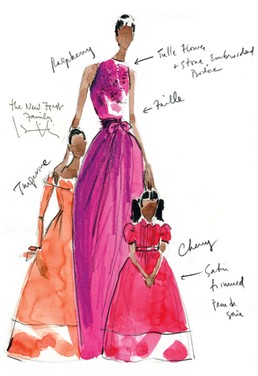 WWD Fashion asked designers to send in sketches for clothing designs for Michelle Obama and her daughters to wear on Inauguration Day on January 20th – when Obama officially becomes President. Check out the results at WWD.com.
The sketch above was done by Isaac Mizrahi for Michelle, Sasha and Malia.
My daughter and I enjoyed watching the slide show together and picking out the dresses we liked best!
This article was posted on Tuesday, December 9th, 2008 at 10:26 pm and is filed under Arts and Crafts, Countries & Cultures, Mama Lisa, Parenting, People, USA, USA, Washington D.C.. You can follow any responses to this entry through the RSS 2.0 feed. You can leave a response, or trackback from your own site.
Leave a Reply