Counting-out Rhymes and a Gypsy Magic Spell
April 12th, 2012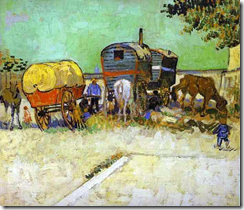 I've recently been asked about a counting-out rhyme chanted in Indiana.  This rhyme may have its origins in an old Gypsy magic spell.
Marsha wrote to me about the rhyme that was chanted by her grandmother:
"I've been trying to find the source of a chant my grandmother taught me.  My mother (who is 86) has some memory of it but doesn't know where it came from.  My grandmother came from southern Indiana and had mostly English ancestry.  Since I've never seen it written, I can only write it as I remember hearing it.  Can you help me?  I can not find anyone who has heard this."

Eenie, rorie, rickry Ann
Filosy, falosy, Nicholas, John.
Kreevy, kravy, English Navy
Stinklum, stanklum, buck.

-Marsha Marcuson
There are many variations of this rhyme that can be found from long ago.  Harry Bolton wrote in his book, "The Counting-out Rhymes of Children" (1888), that these rhymes had their origins in a magical spell in a Romany language of the gypsies:
We have referred to a single case in which a current doggerel has been traced to its source—a magical spell; the following rhyme, notable for its senseless combination of uncouth words and jingling rhythm, is well known to most adults and many children in the United States, especially in New England.

One-ery, two-ery, ickery, Ann;
Fillicy, fallacy, Nicholas John;
Queever, quaver, Irish Mary,
Stinclum, stanclum, buck.

On the authority of Mr. Charles G. Leland, author of several works on the gypsies and their language, the above rhyme differs little from a Romany stanza, which is virtually a gypsy magic spell. The Romany is as follows :—

'Ekkeri, akai-ri, you kair-an,
Fillisin, follasy, Nicholas ja'n;
Kivi, kavi, Irishman,
Stini, stani, buck.

This is chiefly nonsense, but can be translated in part:—

First—here—you begin
Castle—gloves. You don't play. Go on.
Kivi, kettle, How are you?
Stini—buck—buck.

Leland remarks that "Ekkeri, akai-ri" literally translated gives the familiar "One-ery, two-ery" and this is etymologically analogous to "Hickory, dickory" in the nursery rhyme…
Here's a "One-ery, two-ery" rhyme from Bolton's book that's more similar to Marsha's rhyme:
One-ery, two-ery, ickery, Ann,
Fillison, follison, Nicholas John;
Quevy, quavy, English navy,
Stincktum, stancktum, buck!

(Index., Tex., Mo., Ia., Kan.)
Here's another that I think comes even closer to the sound in Marsha's rhyme:
Ery, iry, ickery, Ann,
Fillisy, follosy, Nicholas John;
Quevy, quavy, English navy,
Stinkulum, stankulum, buck!

Hartford, 1860.
Whether or not these rhymes really come from an old gypsy spell seems dubious…  Either way, they've been used by children as counting-out rhymes in many, many variations over the past couple of centuries.  That makes them intriguing enough in their own right!
-Mama Lisa 
Painting: Van Gogh's "The Caravans – Gypsy Camp near Arles"
This article was posted on Thursday, April 12th, 2012 at 8:57 am and is filed under Counting-out Rhymes, Counting-out Rhymes, Countries & Cultures, Folk Lore, Gypsy Magic Spells, Languages, Nursery Rhymes, Rhymes by Theme, Romani, Romany, USA. You can follow any responses to this entry through the RSS 2.0 feed. You can skip to the end and leave a response. Pinging is currently not allowed.
9 Responses to "Counting-out Rhymes and a Gypsy Magic Spell"
Leave a Reply