Cold Turkey Week – Can Your Kids Go for a Week Without a TV?
November 13th, 2006
Every year during the week before Thanksgiving, our town library holds Cold Turkey Week.
During Cold Turkey Week, our kids are challenged to give up the tube (TV). In fact, they're supposed to give up everything with a screen: the TV, computers, Gameboys, etc.
Cold Turkey Week is supported by the school district. They encourage the librarians to come into the schools to talk about the program and psych up the kids to do it.
The kids are given a contract to sign – it's signed by the child and by one of his/her parents each day of Cold Turkey Week – to acknowledge that the child did not watch TV at all.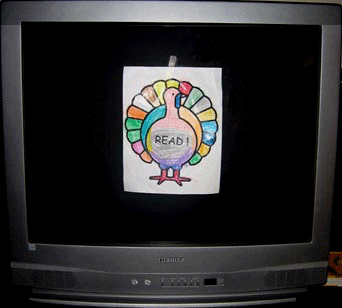 Each child is also given a packet of things to do during Cold Turkey Week: mazes, coloring pages, etc. The library has little events going on. Family time and reading are also encouraged. As a final prize, all the kids who successfully finish the week without watching TV get to attend a special show put on at the library.
I think this is a wonderful idea to show kids that there are other things to do besides electronically based activities. They can even give up computers! The Internet is an incredibly wonderful thing, but it's good to know we can indeed live without it from time to time!
-Lisa
Leave a Reply