Christmas Trees Everywhere!
December 5th, 2010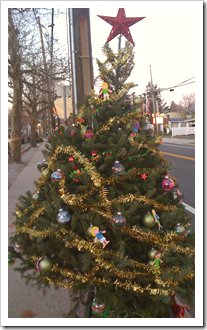 Every December, our town puts up little Christmas trees throughout the village.  Then they let different local organizations decorate them.  The organizations are things like Girl Scout and Boy Scout Troops, the town stores, etc. Then, during the first week of the month, there's a Menorah lighting and a Christmas Tree lighting. 
Above you can see the tree my daughter's Girl Scout troop decorated.  They made the decorations themselves.  The scouts used clear balls and filled them stuff like glitter, feathers and beads.  Sometimes stores will decorate their trees in a theme.  For example, the pet grooming store might put dog toys on their tree.
The trees are judged and the organization with the best one wins something.  I believe they get a pizza party at the local pizza parlor.  Usually it's a  troop that wins.
On the evening of the Christmas Tree lighting, there's a parade through the town to the post office.  There the tree and Menorah are lit. Then kids in band from the school play songs and the chorus kids sing carols.
It's nice for towns to have traditions like this!
Happy Holidays!
Mama Lisa 
Leave a Reply