Chocolate Hershey Kiss Pretzel Sandwich Candy a.k.a. "Grids"
March 16th, 2009
Here's a yummy recipe given to me by Corrine Lewack.  Corrine pointed out that it's a good "math" teaching recipe to make with kids, since it involves counting out candy kisses and then doubling the amount of pretzels per kiss to make "sandwiches".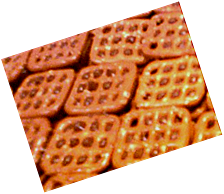 What you will need:
25 Hershey Kisses (Plain)
50 Snyder's of Hanover Pretzel Snaps (they are little 3 square x 4 square rectangular pretzels)
1 large sheet pan
Aluminum Foil or Parchment Paper (to cover the sheet pan… who wants to clean? LOL)
Math: You will need 2 unbroken pretzel snaps for every 1 kiss. You will probably want to make more. (This is good for the kiddies, they can count out the kisses and double the amount of pretzels per kiss).
What to do:
Preheat the oven to 350 degrees Fahrenheit.
Unwrap the kisses. Foil is not tasty.
Place parchment paper or aluminum foil on the sheet pan.
Place pretzel snaps on the sheet pan.
Place a Hershey Kiss in the center of each snap. (See Photo 1)
Put kiss/pretzel in the oven for only TWO MINUTES… NO MORE!  Remove from oven.
Place a Pretzel snap on top of melted kiss, push down slightly to make a sandwich. (See Photo 2)
Allow Grids to cool… or place in the refrigerator for quick cooling.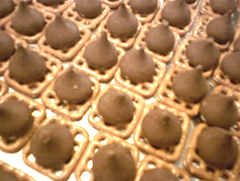 Getting ready for their quick melt in the oven.  (They will retain there kiss shape but will be soft).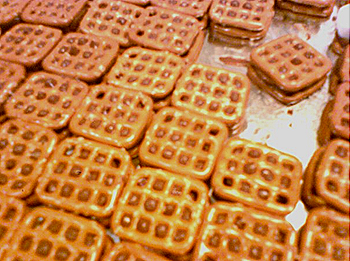 Voila! These are soo good… perfect for those salty/sweet moments!
Corrine wrote, "I must thank my wonderful sister-in-law, Jenny for bringing this recipe into our lives… Enjoy! xo xo"
Here are some variations to the recipe given by Corrine's friends:
Cindy Roter wrote:  "How clever! I can so see topping those little babies with peanut butter… Thanks for the share. Cindy"
Chelle Baldwin wrote: "I can top this one! Same idea but different ingredients. Get the pretzels, top with a rolo.  Heat on low in the oven for a few minutes, then take it out and smoosh the rolo down with either a pecan or another pretzel. Super yummy!"
Susan Leonard Evans wrote:  "Hahhaa, AWESOME! Thanks for sharing, I'm definitely going to try these. Also, I've had similar treats using "pastel-colored" chocolate wafers. Someone made them around Easter – they were yummy AND festive! Just an option :) Thanks again – xo xo xo xo"
Thanks to all of you for the great, yummy ideas!
Mama Lisa
This article was posted on Monday, March 16th, 2009 at 11:17 am and is filed under Chocolate Hershey Kiss Pretzel Sandwich Candy, Cooking with Kids, Countries & Cultures, Desserts, Holidays Around the World, Math, Parenting, Recipes of the World, Teaching, USA. You can follow any responses to this entry through the RSS 2.0 feed. You can skip to the end and leave a response. Pinging is currently not allowed.
4 Responses to "Chocolate Hershey Kiss Pretzel Sandwich Candy a.k.a. "Grids""
Leave a Reply