Chinese Musical Notation – Music without a Staff!
June 28th, 2007
I recently received a song from China called Little Swallow. The sheet music was very different from the notes on staffs that we use in the West. It consisted of numbers with dots and lines. Here's what it looks like: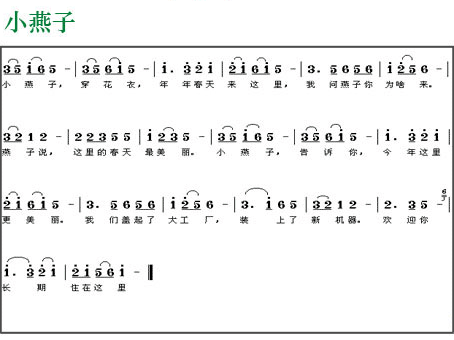 I asked Wang Li, who sent me the song, about it. She said, "In China this kind of sheet music consist of numbers 1-7 and is quite popular:
1-do (C)
2-re (D)
3-mi (E)
4-fa (F)
5-sol (G)
6-la (A)
7-ti (B)
It's called numbered musical notation ("jianpu" in Chinese – simple sheet music) and used to be the only musical score for the ordinary people."
A dot above or below a number raises or lowers the note an octave.
A plain number is a quarter note. A line under the number cuts it in half – so if it has one line under it – it's an eighth note.
A dash after the number adds a quarter note – so if it has one dash after it – it's a half note.
Here you can hear the midi tune of Little Swallow
I can see an advantage to musicians using the Chinese numbered notation as a type of shorthand.
If you're interested in more details, you can read about Chinese numbered musical notation on Wikipedia.
You can see the song page for Little Swallow with the lyrics, midi and staff sheet music by clicking on the link.
Many thanks to Wang Li for the Little Swallow score and to Monique Palomares for creating the midi music.
-Mama Lisa
This article was posted on Thursday, June 28th, 2007 at 5:56 pm and is filed under Children's Songs, China, Chinese, Chinese Children's Songs, Countries & Cultures, Jianpu, Languages, Mama Lisa, Music, Numbered Musical Notation, Sheet Music. You can follow any responses to this entry through the RSS 2.0 feed. You can skip to the end and leave a response. Pinging is currently not allowed.
43 Responses to "Chinese Musical Notation – Music without a Staff!"
Leave a Reply