Blog about Living in New Orleans
February 25th, 2009
Check out the Toulouse Blog about life in New Orleans.
Here's an excerpt of what he had to say approaching the Mardi Gras…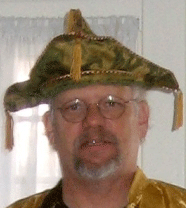 When one is called to Carnival, the first question will always be: what do I wear?

…You must simply find or make a mask, one that calls you to wear it, that dictates the costume that accompanies it, that leads you to surrender yourself to the spirit of the mask.

It need not even be a mask. My "mask" this year is a tri-corner, Asian-styled hat. I do not have the costume, but I already see the costume. When you can see the character in the object, when you can see yourself in the character, you will have found the one.

Without that mask, you can only be The Tourist. We see them at Carnival common as sparrows, and the camera is their mask. They come, take Carnival's blurry picture and go home with fabulous hangovers… If you come do not choose to be The Tourist. Carnival is an occasion to be the spirit you know inside you. So take on your mask,… and enter through the gate The Tourists never pass, down the carriageway that opens into the courtyard at the heart of Carnival. It is filled with masks and spirits.
If reading the Toulouse blog gets you in the New Orleans mood, head on over to Home of the Groove to listen to some New Orleans music – (including some songs typically played in the Mardi Gras parade). You'll feel like you're in the heart of New Orleans. Bon voyage!
Mama Lisa
This article was posted on Wednesday, February 25th, 2009 at 5:20 pm and is filed under Blues, Carnival Songs, Countries & Cultures, Holiday Songs, Jazz, Mama Lisa, Mardi Gras Songs, MP3's, Music, New Orleans, Recommendations, Recordings of Songs, Sites about Music, Travel Sites, Traveling, USA, USA. You can follow any responses to this entry through the RSS 2.0 feed. You can skip to the end and leave a response. Pinging is currently not allowed.
Leave a Reply