Basho's Haiku about the Moon with Recordings
February 14th, 2015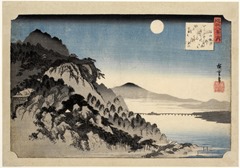 Matsuo Bashō (1644 – 1694) was the master of Haiku! Here you can listen to some of his haiku about the moon in Japanese and English. You can read along with the Japanese text, the pronunciation, the English translations and commentary….
MP3 of Basho's Haiku about the Moon
雲をりをり人をやすめる月見かな
kumo ori ori / hito o yasumeru / tsukimi kana
Oh! the moon gazing where some clouds
From time to time repose the eye!
[Even beauty is best appreciated when occasionally veiled.]
*****
名月の花かと見えて綿畠
meigetsu no / hana ka to miete / wata-batake
In the bright moonlight what appeared
Like flowers is a cotton field.
[What he took for a grove of lovely cherry-blossom is but a common cotton plantation after all. Unpoetical at the fact is, he states it because it is a fact.]
*****
安々と出でていざよふ月の雲
yasu yasu to / idete izayou / tsuki no kumo
Oh! clouds about the moon, from whence
She falters forth so debonair!
*****
九たび起きても月の七ツ哉
kokono tabi / okite mo tsuki no / nanatsu kana
Despite that I have nine times risen,
'Tis but the fourth hour by the moon.
[In Japanese, the "seventh" hour, their seven o'clock (old style) corresponding to our 4 a.m. The poet has risen repeatedly to gaze at the beauteous moon, but still the dawn comes not.]
*****
The English Translations and Text: B.H. Chamberlain
Print of the Moon: Utagawa Hiroshige (1797-1858)
Recording by: Ekzemplaro & Rob Board
This article was posted on Saturday, February 14th, 2015 at 9:21 pm and is filed under Basho, Countries & Cultures, Haiku, Japan, Japanese, Japanese Poems, Languages, MP3's, MP3's of Poems, Poetry, Poets, Recordings, Recordings of Poems. You can follow any responses to this entry through the RSS 2.0 feed. You can skip to the end and leave a response. Pinging is currently not allowed.
2 Responses to "Basho's Haiku about the Moon with Recordings"
Arnold Berke Says:
March 26th, 2020 at 4:46 pm

I am looking to confirm that the following lines are from a poem by Basho:

"I have seen moon and blossom / I go now to view the last and loveliest, the snow"

Can you confirm for me? Thanks!

Lisa Says:
March 26th, 2020 at 6:51 pm

Arnold – that was written by the poet Rippo on his deathbed. You can find it in the book Net of Fireflies (2011) by Harold Stewart. That quote is online on Google here.
Leave a Reply