A Walk Around Cultural Brooklyn
September 15th, 2008
Guest Blogger, Ed Gawlinski, has been involved in many cultural organizations throughout his life. He grew up in Brooklyn, New York. You can tell his heart still belongs there by something he wrote to me the other day, "It is a small world, and in some ways it revolves around Brooklyn!" Here's what Ed wrote last month…
I was in Brooklyn, NY this past weekend visiting my mother, who is in her 90s. I took a walk through what a few decades ago would have taken me from an Irish neighborhood (Sunset Park) into a Polish neighborhood (Park Slope). The ethnic flavor has changed over the years. The current flavor is mostly Mexican. There are a lot of Mexican restaurants that look very inviting. The ones that I have tried have excellent food. On Sunday there was a block party on the street next to Sunset Park. At this event there were several young children performing Mexican folk dances. They were quite good and their costumes were stunning.
I thought you might like to see a few pictures of this…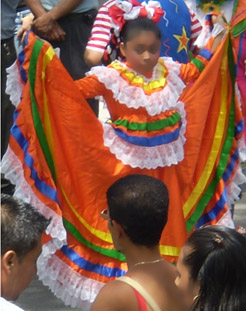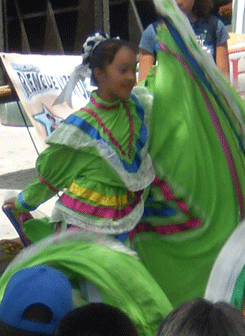 I took those pictures on a walk to Greenwood Cemetery. There are a lot of famous people buried there and they have fascinating walking tours through this beautiful cemetery. Sunset Park and Greenwood Cemetery were also part of the Battle of Brooklyn. This was the biggest battle during the American Revolution. In Greenwood Cemetery there is a monument commemorating this part of the Revolutionary War. This monument includes a statue of the Greek Goddess Minerva who is looking out at New York Harbor. If you stand behind Minerva you can see that she is looking at the Statue of Liberty. Lady Liberty, in turn is looking at Minerva.
Here are a couple of pictures of this that you might enjoy.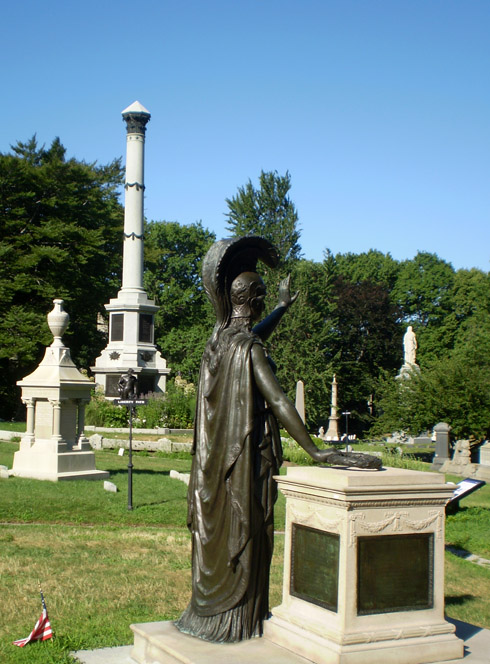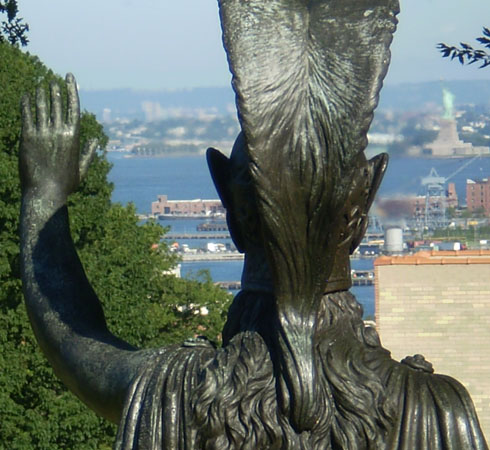 If you come to New York City as a tourist, don't miss Brooklyn. Take the RR subway to the 25th Street station, walk up the hill to Greenwood Cemetery and take the walking tour. When you finish, and go out the main gate, turn right and have something to eat at the Mexican restaurant, or cross the street and eat at the Polish restaurant. Then take the 5th Avenue bus to 60th Street and see the biggest church in Brooklyn which was founded by Irish immigrants but now has ministers for Spanish and Chinese speaking parishioners. Walk up to 6th Avenue and notice the minaret of a mosque a few blocks on your right. Continue to 8th Avenue to shop at the large number of Chinese stores. Don't expect to see many signs in English. You should end your tour back at 5th Avenue and find a Middle Eastern restaurant between 70th Street and 90th Street. Catch the RR subway back to Manhattan on 4th Avenue.
Enjoy!
Ed Gawlinski
One Response to "A Walk Around Cultural Brooklyn"
Sunny Says:
September 17th, 2008 at 2:25 pm

I am looking for help. My family and I are trying to put together a special slide show for my grandma's birthday. She will be turning 90 years old. We are looking for a song she says her mom used to sing to her. Though, I do not know Italian and I am not sure I am hearing her correctly when she is singing the portion of the song. What I can gather sounds like she is saying "chitti bitti bee" and she told me that it means "beautiful baby". Does anyone know the song I am looking for? If so please email me at sunndrop33@yahoo.com I hope someone can help.

Thank You,

Sunny Peyton
Leave a Reply