A Review of "The Inch Boy" – A Japanese Tale, plus a YouTube Video
March 16th, 2010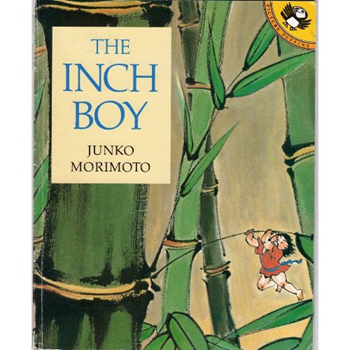 The Inch Boy by Junko Morimoto is a great book for elementary school kids learning about Japan.  I read this to my daughter's 3rd grade class and they loved it!  The pictures are good for reading to a class – nice and large so the kids can see them even if they're sitting in the back of the group. 
The story is similar to the Tale of Tom Thumb.  It's about Issun-boshi – a boy who only grows to be 1 inch tall.  He wants to be a samurai.   His mother gives him a sewing needle for a sword, a bowl for a boat and chopsticks as oars so he can go to Kyoto to prove himself as a brave warrior.  The boys in my daughter's class loved that there was a samurai in the story.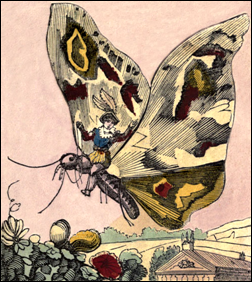 Tom Thumb
Eventually, Issun-boshi has to fight a demon to prove himself.  It's a great big red demon that's called Oni in Japan.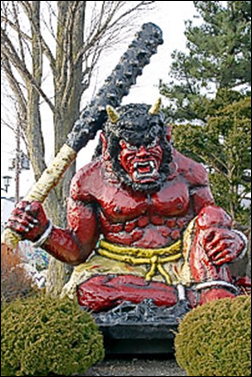 Statue of an Oni Demon
This is a good lead-in to talking about the Japanese festival called Setsuban.  In the festival, people throw soybeans at Oni demons to get rid of evil spirits.  The kids loved to see that connection!
You can read the tale of The Inch Boy online (here's a 2nd version).
You can also watch an illustrated version of the tale told on YouTube.
Enjoy!
Mama Lisa
Note: Issun-boshi comes from Otogi Zoshi, a collection of about 350 tales written in the Muromachi period (1392-1573).
This article was posted on Tuesday, March 16th, 2010 at 8:28 pm and is filed under Books & Stories, Countries & Cultures, English, Issun-boshi, Japan, Japanese, Languages, Setsubun, The Inch Boy, YouTube. You can follow any responses to this entry through the RSS 2.0 feed. You can skip to the end and leave a response. Pinging is currently not allowed.
2 Responses to "A Review of "The Inch Boy" – A Japanese Tale, plus a YouTube Video"
massood Says:
April 12th, 2010 at 2:10 am

is there a song about english irregular verbs
a song wgich can help learners to learn these verbs easily and quickly
thank you

Hot And Sour Soup Says:
June 30th, 2010 at 10:12 am

We made these egg rolls as a family activity for the first time. They fry up so quickly. My whole family loved them and are asking when we'll be doing this again. There's more filling in these than the ones you buy and much less expensive. We didn't include the water chestnuts or the Chinese mushrooms because my 2 teenage boys (who are second generation Chinese-Canadians and love Chinese cuisine as much as the Chinese from HK or China) didn't think it would taste right, but the egg rolls still tasted great.
Leave a Reply