A French Game Played with Dandelion Flowers
May 9th, 2011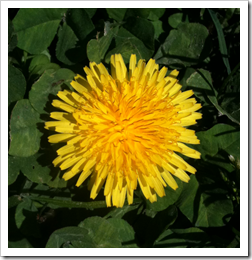 There are some games you can play with dandelion flowers.  A couple of days ago I posted a video of a Dandelion game my daughter taught me.  Monique Palomares saw it and wrote to me about a game she played as a kid in France.   Here's what she wrote:
When we were kids, we would ask someone 'Do you like butter?' or 'I'm going to check if you like butter".  Then we would rub the dandelion under their chin and say "Oh, it's yellow! You like butter!  The French for the dandelion game is "Est-ce que tu aimes le beurre?" or "Je veux voir si tu aimes le beurre." Then we'd say, "Oh, c'est jaune! Tu aimes le beurre!"

By the way, you can make dandelion jelly if you can get the flowers in a meadow -and not anywhere that dogs pee on them. Once we went on a field trip with the students [Monique was a teacher] to the Pyrenees, I picked lots of them in a meadow.   I made jam when we got back home and took it to my students to taste. I found it tasted like artichoke bottoms – none of my kids (now 25!) was carried away by it!

Note: I had no recipe so I just put the 365 flowers (one for each day of the year) with 1kg sugar and some water without any lemon or orange or anything else you see mentioned in recipes. Maybe this was the reason why it tasted like artichoke bottoms!
Thanks for sharing that Monique!  Monique works with me on the French version of Mama Lisa's World.
Everyone else should fell free to share other Dandelion Flower or Seed Pod Games in the comments below.
-Mama Lisa
3 Responses to "A French Game Played with Dandelion Flowers"
Clare Seccombe Says:
May 9th, 2011 at 3:16 pm

In England we do the same thing with buttercups.

Lisa Says:
May 10th, 2011 at 9:48 am

That's interesting Clare! There's a photo of a buttercup on Wikipedia if anyone would like to see what they look like.

*****

Re. Dandelion jam… I found a recipe for dandelion wine in the Oxford English Dictionary dating back to 1906:

Dandelion wine..dandelion flowers..sugar..ginger..lemon..orange..yeast.

Lisa Says:
May 10th, 2011 at 2:48 pm

Emanuela wrote from Italy:

"It's "tarassacco" or "dente di leone" [literally, "lion's tooth"] in Italy."
Leave a Reply