Ong Tal Sam is by Yoon Suk-Joong.
옹달샘
Ong Tal Sam
Little Spring
Children's Song
Children's Song
(Korean Transliteration)
(English)
Kip oun san-sok
Ong tal sam
Nou ka wa so
Mok na yo
Sae pyo keh
To kki ka
Noun pi pi ko
Ih ro na
Seh su ha ro
Wat ta ka
Moul man mok
Ko ka tchi yo.



Deep in the mountain, a little spring,
Who comes for a drink from the spring?

The rabbits at the break of day,
Rubbing their eyes when they awake,
Come to the spring to wash their faces,
They drink only, then go away.

Clear and clean water, the little spring,
Who comes for a drink from this little spring?

In the moonlit night the roe deer,
Hide-and-seek's the game they play.
They become thirsty, rush to here;
After a quick drink, they go away.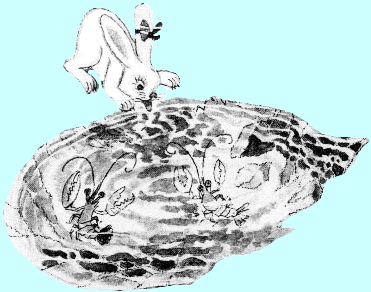 Many thanks also to Susan Pomerantz for playing this tune on piano.

Here's a video of this song in English and Korean...
Please
let us know
if you think this video has been taken down by YouTube.
Thanks!
Sheet Music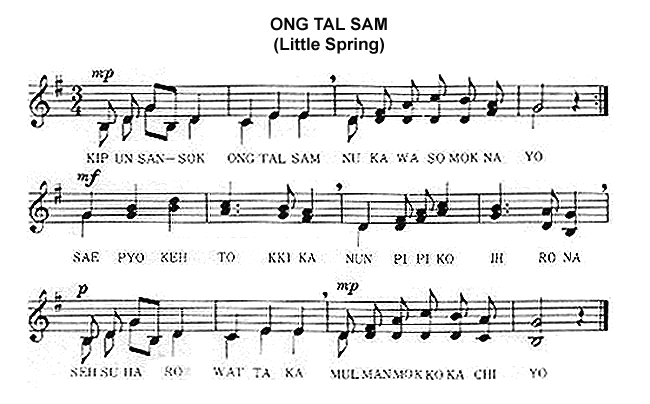 Thanks and Acknowledgements
Many thanks to Sook-Kih Park, Librarian at the Korean Cultural Service in New York, a part of the Consulate General of the Republic of Korea, for contributing this song, the score and the illustration. Thanks to Devon Thagard at Super Simple Learning for pointing out this video!
Te-dan-hi Kam-sa-ham-ni-da!