Dors, min p'tit quinquin
Sleep, My Little One
Refrain
"Dors, min p'tit quinquin
Min p'tit pouchin
Min gros rojin !
Te m'feras du chagrin
Si te n'dors point j'qu'à d'main."

Ainsi l'aut' jour eun' pauvr' dintellière
In amiclotant sin p'tit garchon
Qui, d'puis tros quarts d'heure, n'faijot que d' braire
Tâchot l'indormir par eun' canchon.
Ell' li dijot : "Min Narcisse
D'main t'aras du pain d'épice,
Du chuc à gogo
Si t'es sache et qu' te fais dodo.

Et si te m'laich' faire eun' bonn' semaine
J'irai dégager tin biau sarrau
Tin patalon d'drap, tin giliet d'laine,
Comme un p'tit milord, te s'ras faraud !
J' t'acat'rai, l'jour d'la ducasse
Un porichinell' cocasse
Un turlututu
Pour juer l'air du Capiau-pointu

Nous irons dins l'cour Jeannette-à-Vaques,
Vir les marionnettes comme te riras
Quind t'intindras dire un doup' pou Jacques !
Par l'porichinelle qui parle magas
Te li mettras dins s'menotte,
Au lieu d'doupe un rond d'carrotte
Il t'dira merci
Pins' comme nous arons du plaisi !

Et si par hazard sin maîte eus'fâche,
Ch'est alors Narciss' que nous rirons
Sans n'avoir invie, j'prindrai m'n'air mache,
J'li dirai sin nom et ses surnoms
J'li dirai des fariboles,
I m'in répondra des drôles
Infin, unchacun
Verra deux spectac' au lieu d'un

Alors serr' tes yeux, dors min bonhomme,
J'vas dire eun'prière à p'tit Jésus,
Pou qu'i vienne ichi, pindint tin somme,
T'faire rêver qu'j'ai les mains plein's d'écus,
Pou qu'i t'apporte eune coquille,
Avec du chirop qui guille
Tout l'long d'tin minton
Te pourlèqu'ras tros heur's du long

L'mos qui vient, d'Saint-Nicolas ch'est l'fête,
Pour sûr au soir i viendra t'trouver
I t'f'ra un sermon et t'laich'ra mette,
In-d'sous du ballot un grand painier
I l'rimplira si t'es sach',
D'sait-quoi qui t'rindront bénache
Sans cha sin baudet
T'invoira un grand martinet

Ni les marionnettes, ni l'pain d'épice,
N'ont produit d'effet ; mais l'martinet
A vite rappajé eul'p'tit Narcisse,
Qui craignot d'vir arriver l'baudet
Il a dit s'canchon-dormoire,
S'mère l'a mis dins s'n'ochennoire
A r'pris sin coussin,
Et répété vingt fos ch'refrain
Refrain
"Sleep, my little one,
My little chick,
My big grape!
You'll give me sorrow,
If you don't sleep till tomorrow."

So, the other day, a poor lace maker,
While she was lulling her little boy,
Who, for three quarters of an hour, had been bawling,
Was trying to sing him to sleep.
She was telling him, "My Narcissus,
Tomorrow, you'll get some gingerbread
And sugar galore
If you're good and you go to sleep.

And if you let me have a good week
I'll go redeem* your pretty smock
Your woolen cloth trousers, your wool cardigan,
You'll be as smart as a little lord
I'll buy you, on the day of the fair,
A funny Punch,
A reed pipe
To play the tune of The Pointed Hat**.

We'll go to Jeannette-à-Vaques yard,
To see the puppets, how you will laugh
When you hear said, "A penny for Jacques
By Punch who speaks like a babe
You'll put in his little hand,
A slice of carrot, instead of a penny,
He'll say thank you.
Think how much we'll enjoy ourselves!

And if his master happens to get mad,
That's when we'll laugh, Narcissus,
I'll play dumb,
I'll tell him his names and nicknames,
I'll tell him nonsense,
I'll make funny responses,
In the end, everyone
Will see two shows instead of one.

So, close your eyes, sleep, my little fellow,
I'll say a prayer to the Infant Jesus,
So that he comes here while you're sleeping,
To make you dream that I have handfuls of crowns (coins),
So that he brings you a bun,
With syrup that will drip
Down your chin and on
You'll lick your lips three hours long.

Next month is St Nicholas' day,
Sure, he'll come to see you at night,
He'll lecture you and let you put
Under the bale, a big basket
He'll fill it, if you're good,
With those things that'll make you happy
Otherwise, his donkey
Will send you a big strap.

Neither puppets nor gingerbread,
Succeeded, but the strap
Pretty soon soothed little Narcissus
Who was afraid to see the donkey come
He said his lullaby,
His mother put him in his cradle
She took her pillow again,
And repeated the refrain twenty times.
Notes
*Redeem from the pawnbroker

**Reference to the following French rhyme:

Turlututu chapeau pointu
Ma mère voulait me battre
Je suis passé par la p'tite rue
Maman m'a pas battu

Which in English can be translated as:

Turlututu pointed hat
My mother wanted to hit me
I went through the small street
Mommy didn't hit me.

*****
Words and music for Dors, mon petit quinquin are by Alexandre-Joachim Desrousseaux (1820-1892) from Lille, France.
Comments
According to Answers.com this is the unofficial anthem of the town of Lille, France.

Thanks to Édit' Dupont for singing the refrain and first two verses for us!
Sheet Music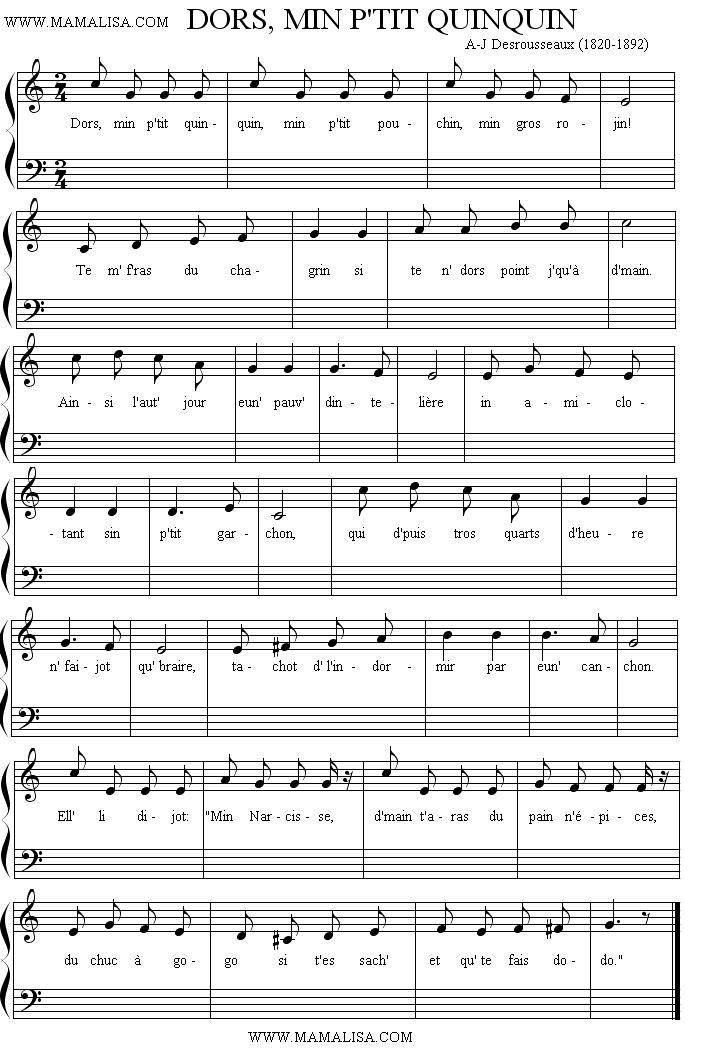 Thanks and Acknowledgements
Many thanks to Édit' Dupont for contributing this lullaby and to Monique Palomares for translating it into English.
Ar'merciements!