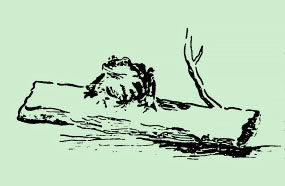 There was a little froggie
That hopped out in the spring;
He sat upon a hollow log
And then he tried to sing.

But his voice was very husky
And he couldn't sing a note,
For the froggie on the log
Had a froggie in his throat.

Notes
Written by Alice Lewis Richards.

The author originally spelled "froggie" as "frogie". We modernized the spelling. Though it's often spelled "froggy".

Thanks to Tina for sharing the first recording!