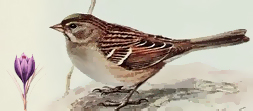 March tried to give a party,
But oh! It was so cold,
That not a flower accepted,
Except one crocus bold.

And all the birds regretted,
Except a chickadee,
He'd stayed up north all winter,
And liked the cold you see.

The North Wind laughed down at them,
And cried so brisk and hearty,
"You'd better wait till I am gone
Before you give a party!"