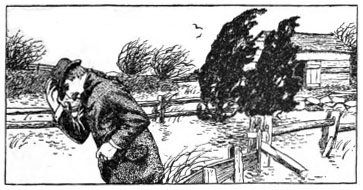 It was raining hard when I went to bed;
The creek was over its banks, they said,

And in the morning far and wide
The meadows were flooded on every side;

There was water over the yard below,
And it looked like a place I did not know:

The wind swept by with a rushing sound,
And the doghouse floated around and around.

When father went out to the barn that day
I thought he'd surely be swept away.

In long gum boots he stepped from the door,
And the water was up to his knees and more.

I thought, if the flood should never go down,
We'd build a boat and row to town,

For there we would buy our bread and meat
And pies and all things good to eat,

And living here for all our days
We would almost be like castaways.


Notes
Written by Katharine Pyle.