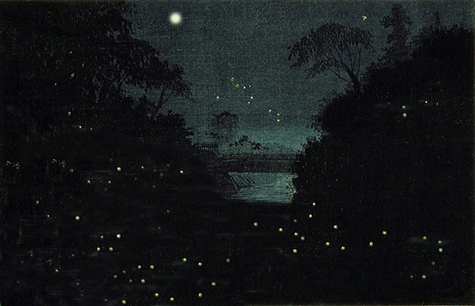 Fireflies flicker in the tops of trees,
Flicker in the lower branches,
Skim along the ground.
Over the moon-white lilies
Is a flashing and ceasing of small, lemon-green stars.
As you lean against me,
Moon-white,
The air all about you
Is slit, and pricked, and pointed with sparkles of lemon-green flame
Starting out of a background of vague, blue trees.

Notes
Written by Amy Lowell.

Thanks and Acknowledgements
Image: Fireflies at Ochanomizu, original woodblock print by Kobayashi Kiyochika (Japan, 1847-1915). Edited by Mama Lisa.