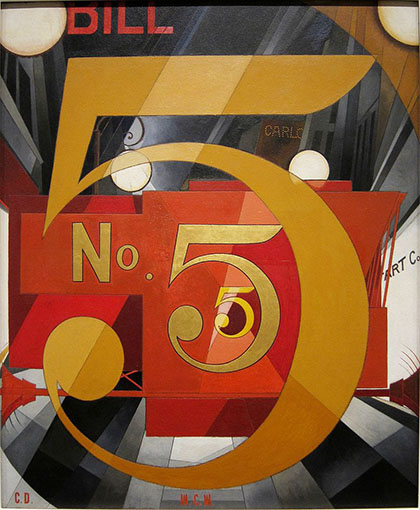 Among the rain
and lights
I saw the figure 5
in gold
on a red
firetruck
moving
tense
unheeded
to gong clangs
siren howls
and wheels rumbling
through the dark city.
Notes
Written by William Carlos Williams

***

Image: "I Saw the Figure 5 in Gold, also known as The Figure 5 in Gold, is a 1928 painting by American artist Charles Demuth. It has been described as influenced by Futurism and Cubism. Painted as a homage to Demuth's friend William Carlos Williams, the painting references Williams' poem The Great Figure, which describes a fire engine speeding through the streets of New York on a rainy night. The painting's title is a phrase from the poem." -Wikipedia


Read by Lisa Yannucci.

Rain and Siren sound effects specifically are CC by 4.0.
Thanks and Acknowledgements
The poem can be found in "Sour Grapes: A Book of Poems" (1921) by William Carlos Williams.