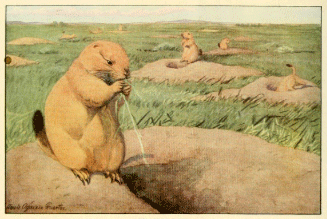 Old Peter Prairie-dog
Builds him a house
In Prairie-Dog Town,
With a door that goes down
And down and down,
And a hall that goes under
And under and under,
Where you can't see the lightning,
You can't hear the thunder,
For they don't like thunder
In Prairie-Dog Town.

Old Peter Prairie-Dog
Digs him a cellar
In Prairie-Dog Town,
With a ceiling that is arched
And a wall that is round,
And the earth he takes out he makes into a mound.
And the hall and the cellar
Are dark as dark,
And you can't see a spark,
Not a single spark;
And the way to them cannot be found.

Old Peter Prairie-Dog
Knows a very clever trick
Of behaving like a stick
When he hears a sudden sound,
Like an old dead stick;
And when you turn your head
He'll jump quick, quick,
And be another stick
When you look around.
It is a clever trick,
And it keeps him safe and sound
In the cellar and the halls
That are under the mound
In Prairie-Dog Town.
Notes
Written by Mary Austin.

Thanks and Acknowledgements
Image from "Wild Animals of North America" (1918).