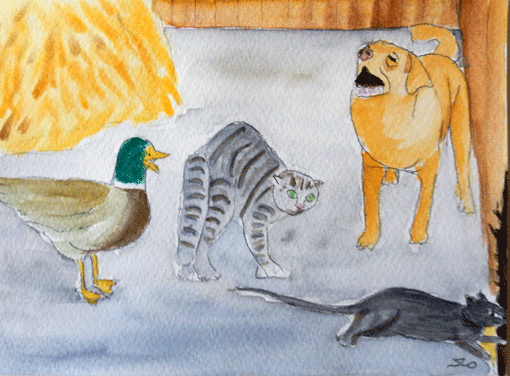 The Dog and The Cat,
The Duck and The Rat
Once on a time in rainy weather
A dog and a cat,
A duck and a rat,
All met in a barn together.
The dog he barked,
The duck she quacked,
The cat she humped up her back;
The rat he squeaked,
And off he sneaked
Straight into a nice large crack.

The little dog said, and he looked very wise,
'I think, Mrs. Puss,
You make a great fuss
With your back and your great green eyes.
And you, madam duck,
You waddle and cluck,
Till it gives one the fidgets to hear you.
You had better run off
To the old pig's trough,
Where none but the pigs, ma'am, are near you.'

The duck was good natured, and she ran away,
But old pussy cat
With her back up sat,
And said she intended to stay;
And she showed him her paws,
With her long sharp claws,
So the dog was afraid to come near.
For puss if she pleases,
When a little dog teases,
Can give him a box on the ear.
Notes
Written by Eliza Lee Follen.

Thanks and Acknowledgements
Thanks to Monique Palomares for the illustration.