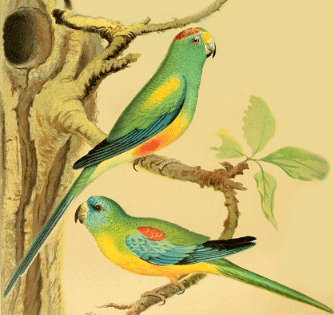 Peter in the window sits,
Turning round his cool, red eye,
Looking strange, and cross and shy.
As from ring to perch he flits,
Hanging there by claw or beak-
Sometimes looking up to speak.

"Pretty Polly," oft he says-
Half in question, half to see
If his simple vanity
Finds an echo in my praise;
Sometimes he will laugh and cry
At the people passing by.

Then he stops to sneeze or cough;
All his red, and green and gold
Cannot fright away the cold,
Cannot keep the winter off;
Ruffled feathers, rough and dim,
Tell Jack Frost hath bitten him.

Much I wonder if he thinks,
Sitting in the pallid sun,
Of that life, so long since done,
Where the long liana's* links,
Swinging slow, from palm to palm.
Cradled him in tropic calm.

Does he hear the bell-bird's cry,
When we think him half asleep?
Or, do forest odors creep
Through his troubled memory,
Telling tales of happy hours,
'Mid a thousand gorgeous flowers?

Does he ever seem to see
Gayer brethren of his kind
Flying on the torrid wind-
Perched on every stately tree,-
Toucans, paroquets, macaws,
Chattering on without a pause?

Does he see the monkeys swinging
Here and yon along the vines;
Or, when cool the moonlight shines,
Hear the Indian shrilly singing,
On the river's gleaming breast,
Floating homeward to his rest?

Pretty Polly! homesick bird!
Or, is all my pity wasted?
Are these joys, that once you tasted,
Vanished like a song half heard?
Are you just as pleased to squall
From the window, "Pretty Poll?"
Notes
*"A liana is any of various long-stemmed, woody vines that are rooted in the soil at ground level and use trees, as well as other means of vertical support, to climb up to the canopy to get access to well-lit areas of the forest." -Wikipedia

Written by Rose Terry Cooke (1827 – 1892).