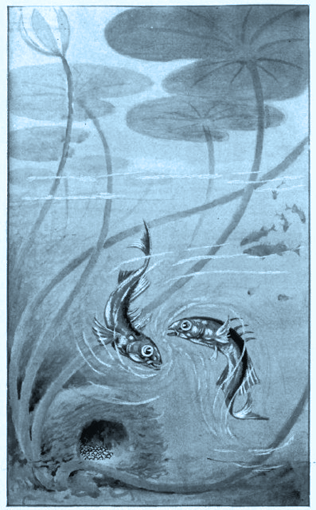 A little fish lived in a stream,
All clear, and smooth, and bright;
And there he played from morning's beam
Until the shades of night.

And nothing could more happy be
Than was that little thing ;
But discontented now was he,
And wished to leave the spring.

He wished to go with other fishes,
And see the great big sea;
And so he told his secret wishes
Unto his mother. She

Was a wise old fish, you know,
And told her pretty son
That many dangers, should he go,
That he would surely run.

She told him of the fearful shark,
That prowls along the shore;
She told him of the dolphins dark,
That swarm the ocean o'er.

Of these she told her scaly child,
And warned him not to go;
But he, alas, was young and wild,
And would not heed her! so

He went away one sunny morn,
And left his happy shore,
And ne'er again did he return,
0r taste of pleasure more.

Through many dangers did he pass,
And reach the rolling sea;
But there he met a hungry bass,
Who ate him as a pea.
Thanks and Acknowledgements
This poem can be found in "Peter Parley's Book of Poetry: For Children" by Samuel Griswold Goodrich (1834).