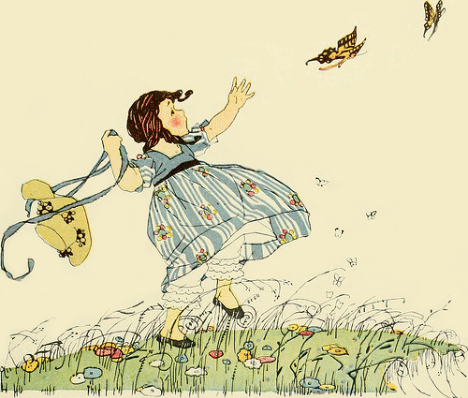 Butterflies are Pretty Things
"Butterflies are pretty things,
Prettier than you or I;
See the colors on his wings;
Who would hurt a butterfly?"

"Softly, softly, girls and boys;
He'll come near us by and by;
Here he is, don't make a noise;-
We'll not hurt you, butterfly."

Not to hurt a living thing,
Let all little children try;
See, again he's on the wing;
Goodbye! pretty butterfly!

Notes
Written by Eliza Lee Cabot Follen.

Thanks and Acknowledgements
This can be found in "Little Songs" by Eliza Follen, 1832.

The illustration can be found in "Sunny Rhymes for Happy Children" (1917) by Olive Beaupré Miller.