A glowworm (or glow-worm) is the name for various groups of insect larvae and adult larviform females that glow at night. Some glowworms are in the firefly family.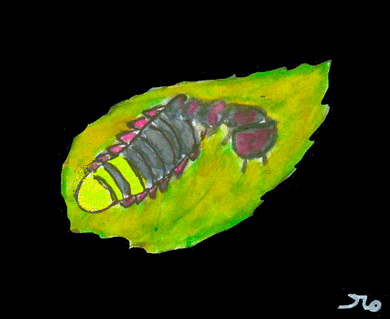 Close by the margin tufts of grass
Weighed down with dew and damp,
I found you as I chanced to pass,
Your trimmed and shining lamp
Illumining with greenish light
The dusty road in dusky night:

A velvet ring set round with gems
That softly shone below
The pale blue chicory's tall stems,
As if the path to show
To some belated beetle who
Went stumbling homeward in the dew:

A phosphorescent beacon there,
A solitary guide
For insect ships that sail the air
On breaths of fragrant tide;
Or were you from some realm on high
A star dropped from the summer sky?

Notes
Written by Frank Dempster Sherman.

Recited by Jason Pomerantz.
Thanks and Acknowledgements
Thanks to Monique Palomares for the illustration!

This poem can be found in "The Child's Companion" (1844) with the author given as S.W.P.