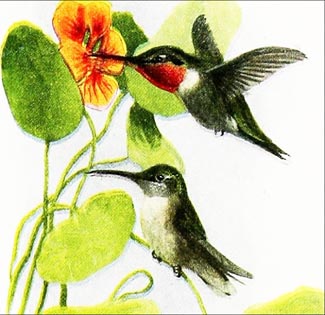 Humming-bird,
Not a word
Do you say;
Has your throat
No sweet note
To repay
Honest debts
It begets
When you go
On the wing
Pilfering
To and fro?

May be you
Whisper to
Bloom and leaf
On the vine
Secrets fine
In your brief
Calls on them,
Winged gem.
Not a word
You reply!
Off you fly,
Humming-bird!
Notes
Written by Frank Dempster Sherman.

Thanks and Acknowledgements
This poem can be found in "The Child's Companion" (1844) with the author given as S.W.P.

Image: "The book of birds : common birds of town and country and American game birds" (1921).