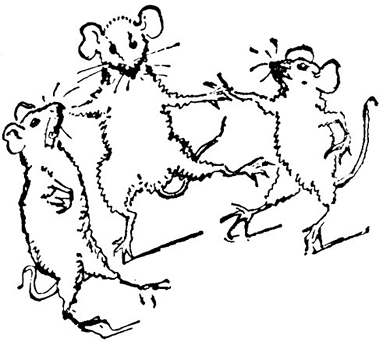 The merry mice stay in their holes
And hide themselves by day;
But when the house is still at night
They all come out to play.

Now here, now there, they trot about,
In every hole they peep,
To see what they can find to eat
While we are fast asleep.

They climb upon the pantry shelf,
And taste of all they please;
They drink the milk that's set for cream,
And nibble bread and cheese.

But if they chance to hear the cat,
Their feast at once is done;
They scamper off to hide themselves
As fast as they can run.


Thanks and Acknowledgements
This poem can by found in "The cowslip: or, More cautionary stories in verse : a companion to that much admired little work, entitled The daisy" by Mrs. Turner (Elizabeth) (1851).