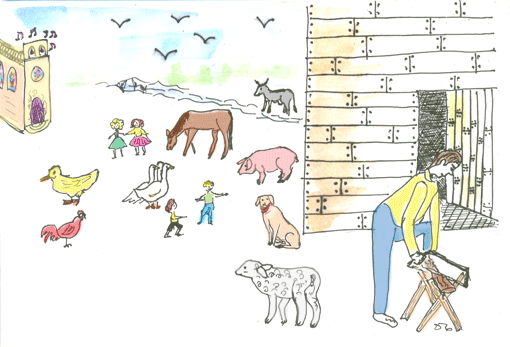 The cock is crowing,
The cows are lowing,
The ducks are quacking,
The dogs are barking,
The mule is braying,
The horse is neighing,
Was there ever such a noise!

The birds are singing,
The bells are ringing,
The pigs are squeaking,
The barn door is creaking,
The brook is babbling,
The geese are gabbling,
Mercy on us, what a noise!

The sheep are ba-a-ing,
The boys are ha-ha-ing,
The swallows twittering,
The girls are tittering,
The crows are cawing,
And John is sawing,
Who can stand all this noise?
Notes
Written by Eliza Lee Follen. There are several adaptations of this poem.


Thanks to Jason Pomerantz for the recording!
Thanks and Acknowledgements
Thanks to Monique Palomares for the illustration!