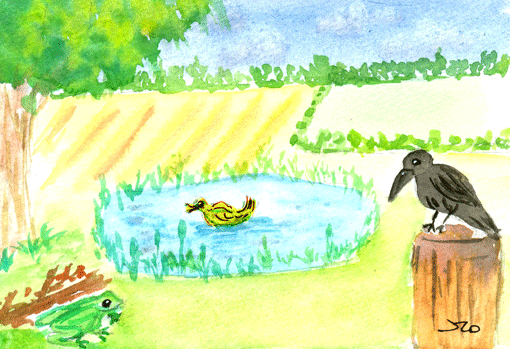 "Caw! caw!" says the Crow,
"Spring has come again I know,
For as sure as I am born,
There's a farmer planting corn.
I shall breakfast there, I trow,
Long before his corn can grow."

"Quack, quack!" says the Duck,
"Was there ever such good luck!
Spring has cleared the pond of ice,
And the day is warm and nice,
Just as I and Goodman Drake
Thought we'd like a swim to take."

"Croak, croak!" says the Frog,
As he leaps out from the bog;
"Spring is near, I do declare,
For the earth is warm and fair.
Croak! croak! croak! I love the spring,
When the little birdies sing."


Thanks and Acknowledgements
Written by Annie Parker and published in Student and Family Miscellany, Volume 11 in 1855.

Thanks to Monique Palomares for the illustration!