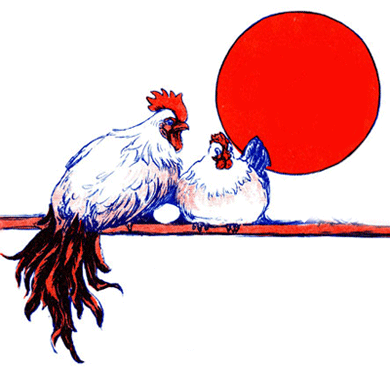 The Cock and The Clucking Hen
The cock said, "Will you walk with me,
My little wife, today?
There's barley in the barley field
And hayseed in the hay."

"Oh, thanks!" replied the clucking hen;
"But I've something else to do,
I'm busy sitting on my eggs,
I cannot walk with you."

"Cluck, cluck, cluck, cluck!"
Said the clucking hen,
"My little chicks will soon be hatched,
I'll think about it then."

The clucking hen sat on her nest -
The nest was in the hay,
And warm and snug beneath her breast
A dozen white eggs lay.

Crack, crack! went all the eggs;
Out crept the chickens small.
"Cluck!" said the clucking hen,
"Now I have you all."

"Come along, my little chicks,
I'll take a walk with you."
"Hello!" said the barnyard cock,
"Cock-a-doodle-doo!"



Thanks and Acknowledgements
This poem can be found in "Poems My Children Love Best of All" (1917), edited by Clifton Johnson.