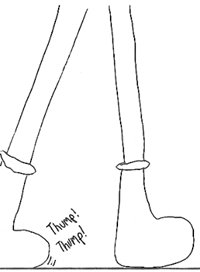 Once there was a boot
Who walked across the ground
He was strolling peacefully,
Then he heard a sound
Thump! Thump!
Another of his kind!
The odd thing was that
It was walking right behind!
Notes
Written by Lila Pomerantz in 2012, while in 5th grade.

Recited by Lila Pomerantz in 5th grade.
Thanks and Acknowledgements
Thanks to Lila Pomerantz for sharing her poem and illustration.